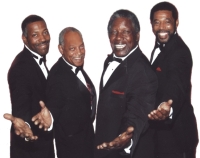 BIOGRAPHY:
A member of The Rock & Roll Hall of Fame, the last "original" brings you hits like 'Under The Boardwalk' and 'Save The Last Dance'!

ROCK AND ROLL HALL OF FAMER (1988) Charlie Thomas was a member of a group known as the Five Crowns in 1958 along with Ben Earl Nelson (later known as Ben E. King), who were being managed by Lover Patterson.

While the The Five Crowns met with little commercial success, they enjoyed local popularity and that is why they were on the bill at the Apollo Theater in New York City in 1958 when George Treadwell fired his famous group, The Drifters. It was Charlie Thomas' voice that Treadwell heard and hastily recruited the Crowns to become the new Drifters.

Lover Patterson once said that Charlie Thomas' voice was one that the world would enjoy forever, and he was right! The new Drifters first release in 1959 was a song called "There Goes My Baby". This was the beginning of what is generally acknowledged as the Golden Years of the Drifters.

In 1988, the Rock and Roll Hall of Fame inducted the Drifters; naming members Clyde McPhatter, Bill Pinkney, Gerhart Thrasher, Johnny Moore, Ben E. King, Charlie Thomas, and Rudy Lewis at the Waldorf Astoria in New York City. Bill Pinkney, Charlie Thomas, and Johnny Moore (posthumously) received Pioneer Awards from the Rhythm & Blues Foundation in 1999.