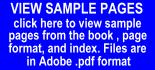 View Names Listing
Click below to view everyone included in this massive book. This listing was last updated in 2006, but will give you a good idea of the content.
(these are large files)
Web .html file: click here
Text only file: click here
.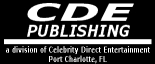 .

.

LIST OF CELEBRITY

CATEGORIES

FOUND IN THE

ULTIMATE CELEBRITY

ADDRESS & PHONE BOOK

---------------------------------

actors / actresses

TV shows

TV producers

musicians

music groups

cartoonists & artists

authors

politicians / world leaders

astronauts

major league baseball players

minor league baseball players

1955 Brooklyn Dodgers

1961 New York Yankees

1962 New York Mets

1969 New York Mets

1969 Seattle Pilots

1986 New York Mets

Negro league baseball players

women in baseball

pro baseball umpires

pro baseball scouts

football players

1970 Huskers football

1971 Huskers football

collegiate athletes

basketball players

basketball leagues & teams

motor sports (NASCAR, etc.)

boxers

golfers

hockey players

bowlers

soccer players

tennis players

Olympic athletes

track & field

gymnasts

collegiate-style wrestling

pro wrestling

models

adult entertainers

computer & software pioneers

... & virtually everyone else!

---------------------------------

TEAM ADDRESSES FOR:

Major League Baseball

National Football League

National Basketball Assoc.

National Hockey League

WNBA

Major League Soccer

American Hockey League

NBA D-League

MLB Spring Training sites

"AAA" minor league baseball

.......

.

TESTIMONIALS

"By far the most comprehensive celebrity contact guide ever!" - J.B., Branson, MO
.
"Never has it been so easy to conduct celebrity interviews - thanks!" - A. Murtaugh, KNMY Radio
.
"I've seen a lot of address lists out there... nothing beats the UCAPB!" - C.F., Fullerton, CA
.
"Thousands of mailing addresses... And I can't believe the actual phone numbers and e-mail addresses!" - Brad Winston, Vermillion, SD
.
"... has to be my best desk reference!" - Kevin Radbury, Australia
.
"I bought your Ultimate Celebrity Address and Phone Book last year in April.... I've scored two rather big autographs since then. I've got Ruth McCartney's (Paul's sister) and Elton John's believe it or not. Getting Elton's absolutely blew me away. I sent him a manilla envelope with a couple internet photos of his albums, and asked if he could throw in an 8 by 10 and he signed all three. I just sent them two weeks ago and got them back last week, after only eight days. Anyway, Cord, so far, the book's really worked out well. I'm excited to hear from Fogerty and Ringo." - Tim Carroll, Pittsburgh, PA

......

..

YOU NOW HAVE THREE FORMATS TO ACCESS
THIS AMAZING COLLECTION OF DATA!
1) printed book 2) download digital book & database files (printable, searchable, etc.)
3) ALL-NEW ONLINE SUBSCRIPTION (search, sort, and export) !!



AS OF SEP 1, 2009 THE 2nd EDITION
HAS BEEN RELEASED!!!

Perfect for autograph & memorabilia collectors, the media, alumni associations and many more! The new edition is a whopping 500 pages with even better and more content!
.

.

We provide more contact data - for more celebrities - than any other celebrity contact guide!

We are now making available our personal address database to the public! Have you ever bought an address list, or found one on the internet,and thought, "Geesh, this isn't worth the time or the money!!" ?? Well, we have, and that's why the Ultimate Celebrity Address & Phone Book is now available! Quit wasting time and money on downloading and buying endless celebrity lists that are full of outdated and incorrect addresses. Because... there's only one book you need! This book is years of research into previously unknown addresses and other contact information, for every celebrity category, compiled into one book! We don't list "filler" contact data (i.e. booking agencies and team addresses). In every catagory, there are only home, office, and management addresses, phone numbers, and other 'true' contact information given... including fax #s and e-mail addresses.

This guide is GUARANTEED to bring you success! To show our confidence in this list, we are willing to pay you $.50 (fifty cents) for each address that you find in our book to be incorrect. All you have to do is mail your RTS envelopes or yellow return label to us! Why? This helps us make this the PERFECT address list for you, and reimburses you some for some postage expenses, due to our error. Yes, our error. We are making it our job to provide you with current and successful addresses. THIS IS HOW WE HAVE THE BEST CONTACT INFO. IN THE WORLD!

The Ultimate Celebrity Address & Phone Book is NOT your average stapled list of celebrity addresses... Our book is bound, nearly 500 pages, and contains data for 46 celebrity categories! !

In addition to the 15,000+ entries featuring mailing addresses, phone numbers, fax numbers, e-mail addresses, website info, and biographical information, The Ultimate Celebrity Address & Phone Book also has sections on:

* autograph collecting tips & techniques
* through the mail autograph collecting
* autograph collecting glossary
* classified ads (great advertising options!)

* other products & services for sale
* sample autographed items
* autograph collecting resources

.

(contact us by e-mail if you have lost or forgotten your password)

.



..
..
Now, why is this called The Ultimate Celebrity Address & Phone Book? In short, this book has the most contact information ever compiled in one single source. This isn't a copy of other lists found on the internet. We provide tons of data not found anywhere else! The book contains complete address, phone numbers, fax numbers, as well as e-mail and web addresses. Also reference information on each celebrity. That's right, you can personally phone or e-mail thousands of celebrities in addition to sending off your autograph or interview/appearance/fundraising requests. We do not condone invading any celebrity's privacy, but hundreds of radio stations, booking agents, alumni associations, collectors, and many more have found this data their most valuable desk reference!
.

Unlike many other lists, when you order the book from us, you will receive the most current edition. The UCAPB is updated every day!! The Ultimate Celebrity Address & Phone Book contains well over 15,000 listings!! Also, although most, not every listing has phone, e-mail, or web page info.
......
At this time, there are THREE options for obtaining this priceless book!
.
1) Order the print edition straight from our publisher via PayPal or Credit Card: $59.95
Just click the "BUY NOW" botton to the right, and they'll take care of the rest. You can pay via PayPal or credit card. You will soon receive the book which contains the following information, in all celebrity categories: name, complete mailing address, up to two phone numbers, fax number, e-mail & web site address, and claim to fame. 448 pages, 15,000 entries, in 45 celebrity categories! Many autograph successes and trials are also noted. Please allow sufficient time for delivery (usually around a week).


CLICK HERE

2) Download the complete, unedited original database files edition! : $84.95
Once you place this order using the PayPal button to the right, we will e-mail you a user name and password to login to a special portion of our website where you can download the complete book in electronic form (Adobe Acrobat .pdf). You will also have access to both the original Microsoft Works database files. Download these files to your computer, or view online. You then will have the database available at your fingertips for search queries, or for printing labels, form letters, editing, updating, etc. The Adobe Acrobat version will allow you to print the data in book format, just like our published book! This version of the database also features additional information such as AOL Instant Messenger names, additional phone numbers, and additional biographical and personal data not disclosed in the print addition due to space limitations of the printed matter. With this version, you also get FREE UPDATES FOR LIFE!! Just log back in with your user name and password to re-download the data at any time.***Note: this database format will easily convert to other databases.


CLICK HERE

3) Subscribe to the NEW online searchable database service : just $9.95/mo <== all new....
Brand new for 2010!! We are now releasing our data to subscribers in a continually updated web-based version! Search and short by name, city, state, postal code, celebrity category, or e-mail address. The resuts will appear on-screen, and pull data meeting your search criteria for over 70,000 pieces of data! You can then sort the results by name, category, or postal code. Click a button and all of your search results will be exported to your computer. For a limited time, this database subscription is only $9.95 a month. Our most valuable and cost saving tool!


CLICK HERE
(coming soon!)

To meet special requests, we also allow you to purchase individual celebrity category lists directly from us. Simply mail a check or money order, payable to Celebrity Direct Entertainment, to Celebrity Direct Entertainment, PO Box 494314, Port Charlotte, FL 33949. The individual lists are just $25.00 (postage paid). You may also PayPal the funds to paypal@celebritydirect.net using www.PayPal.com. Or, simply click the button to the rights. Please designate which lists you are requesting from the 'category' list in the left-hand column.


CLICK HERE
We've heard from a couple of people about receiving errors when trying to order merchandise through the PayPal portion of our website... This error will state "Session timeout" or something similar. If you receive this error while creating your PayPal account or while ordering, the solution is simple! Simply click on "tools" at the top of your browser, then click "internet options." Click the 'privacy' tab, and then hit 'edit' at the bottom/right. Type in www.paypal.com and then 'allow.' This will have you ready to go! This is simply a security/safety issue -- to help protect you! This error should only occur in very rare instances.
..



.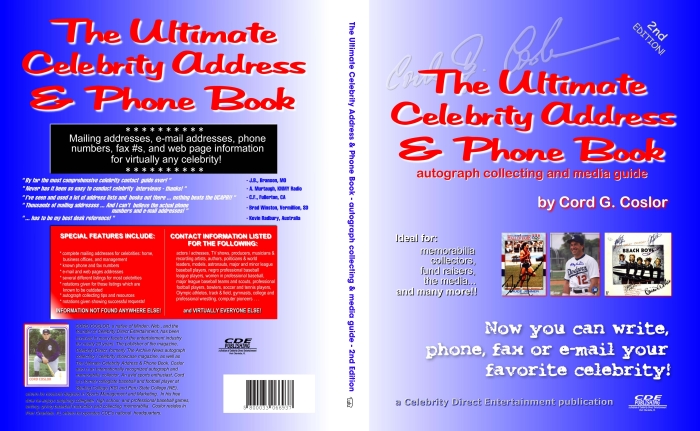 .