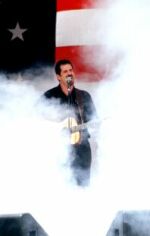 GARY RAY IS HARD AT WORK IN THE STUDIO! BE ON THE LOOKOUT FOR THE MUCH ANTICIPATED ALBUM... FINALLY! KEEP CHECKING BACK HERE FOR ADDITIONAL INFORMATION!
Due to the damage caused by Hurricane Charley, the album progress is temporarily on hiatus. Keep checking back here for the latest updates!
A professional musician for over 20 years, Harvey has performed and studied with some of the most well known individuals and groups on the planet. Harvey has played everything from small town "honkey tonks" to classical music in museums, to Farm Aid for nearly 60,000 fans, to classic hits for Japanese Royalty. Currently, Harvey tours the United States with Jim Morris & The Big Bamboo Band, who is internationally known for his tropical Buffett-esque show. For many years, Harvey was also the guitar player and music director for The Platters Featuring The Legendary Monroe Powell.
Not only is Harvey an experienced and professional guitar player and vocalist, but one who has pure talent on the other side of the microphone as well. Whether it be live or recording production, or running sound & lights, Harvey can, and has, done it all.
In addition to globetrotting with The Platters and Jim Morris, Harvey reached international fame in 2001 on his own, with his moving tribute the the men and women who responded to our call of need on 9/11/01 -- "911" is available as a free download on this site. "911" was played on radio stations, and received acclaimed media attention, world-wide.
Check out the links to the left, as we believe we have something for everyone on this site.. Whether you're a fan or looking to book Gary Ray for a variety of different types of shows... you've come to the right place! If there's something that you can't find on this site, contact us and we'll do our best to help you out.