RETURN HOME
=> CONTACT US <=
mail, phone, fax, e-mail
JOIN OUR MAILING LIST!
***

***
ENTERTAINMENT BUYERS' RESOURCES
COMPLETE ARTIST ROSTER
DOWNLOAD FULL ARTIST ROSTER MAGAZINE

OFFER / INQUIRY FORM
FREQUENTLY ASKED QUESTIONS
ABOUT CELEBRITY DIRECT ENTERTAINMENT
BOOK A CELEBRITY FOR AUTOGRAPH SIGNINGS / PERSONAL APPEARANCES
FULL EVENT PLANNING SERVICES / CONCERT PRODUCTION
TESTIMONIALS / MEDIA
BOOKING PRO 3.0
**NEW**ENTERTAINMENT BOOKING SOFTWARE FOR AGENCIES, VENUES, AND ENTERTAINERS!
**NEW**DESIGN, ORDER & PRINT YOUR VENUE TICKETS HERE!

CLICK HERE TO INSTANT MESSAGE US !
FOR ENTERTAINERS
BOOKING PRO 3.0
**NEW**ENTERTAINMENT BOOKING SOFTWARE FOR AGENCIES, VENUES, AND ENTERTAINERS!
SUBMIT YOUR PROMO
AND / OR DEMO
RECORDING, DESIGN, AND DISTRIBUTION
WEBSITE DESIGN & HOSTING
add your profile to
THE CELEBRITY DIRECTORY
FOR FANS AND COLLECTORS
=>PURCHASE TICKETS <=
AUTOGRAPHED MERCHANDISE
VIEW/SUBMIT FAN PHOTOS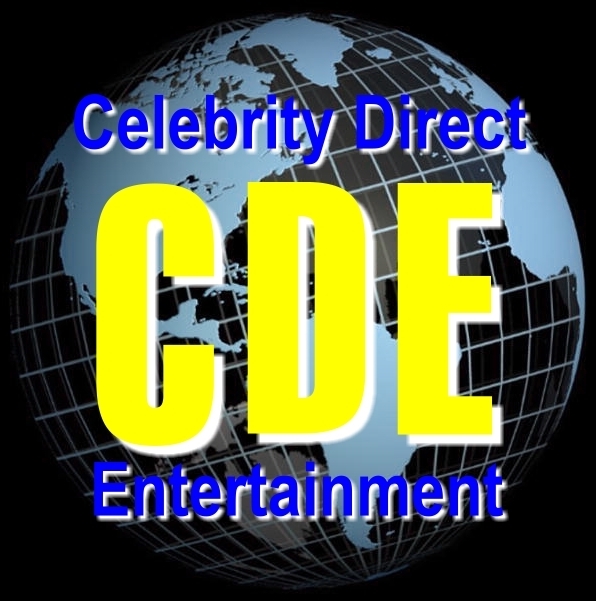 OTHERS
SIGN / VIEW GUESTBOOK
LINKS DIRECTORY
ADD YOUR LINK
NEWS HEADLINES
CELEBRITY DIRECT
AUTOGRAPHS
THE ULTIMATE CELEBRITY
ADDRESS & PHONE BOOK


THE PLATTERS
INFORMATION SITE
---
PRIVATE BUYERS' AREA
PRIVATE CDE LOGIN

CLIENT / ARTIST TESTIMONIALS / CDE IN THE MEDIA


also, as added testimonials, be sure to visit the photos page to see Celebrity Direct staff with some of the acts we represent. And, to see some of the current & past productions we're involved in, visit HERE
---
From: Gary Roberts :: Summer Crush Vineyards & Winery, Ft. Pierce, FL 3/6/17 - GLENN LEONARD PRESENTS HITSVILLE LIVE
We have had many well-known performers and bands here, and without a doubt GLENN LEONARD PRESENTS HITSVILLE LIVE was one of the very best! It really could not have been better. It was Motown at its finest, presented by the very finest performers and musicians. And I pay Mr. Leonard the highest compliment I can…. he (and everyone in his show) is a true CLASS ACT, both professionally and even more important, personally! I and my audience can't wait for them to return.
And Mr. Coslor was a pleasure to work with from initial discussion all the way through the evening of the performance. Cord is easy to work with and a straight shooter, and professional in all regards! I look forward to working with Cord on many more shows here.
---
From: Jim Kinsey :: Valley Cultural Center - Summer Series, Woodland Hills, CA 7/18/16 - GLENN LEONARD'S TEMPTATIONS REVUE
Fantastic!!! I have NEVER (EVER) worked with such gracious, nice and amazing people. We were blown away with the performance, attitude and willing to us raise funds during intermission. ... We are VERY happy - thank you.
---
From: Al Durrett, Fish-Tale Marina, Fort Myers Beach, FL: Mar 18, 2016 in regards to CALIFORNIA SURF, INCORPORATED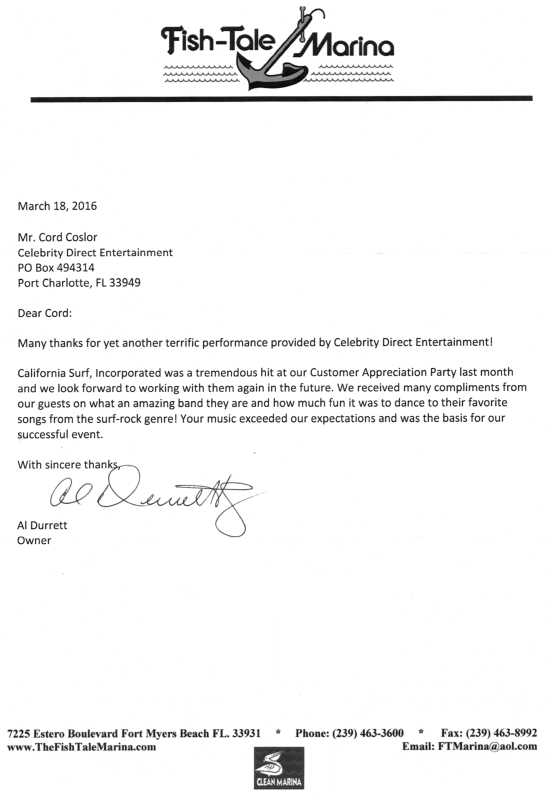 "Many thanks for yet another terrific performance provided by Celebrity Direct Entertainment! California Surf, Incorporated was a tremendous hit at our Customer Appreciation Party last month and we look forward to working with them again in the future. We received many compliments from our guests on what an amazing band they are and how much fun it was to dance to their favorite songs from the surf-rock genre! Your music exceeded our expectation and was the basis for our successful event. With sincere thanks, Al Durrett
---
From: Mary Blair, Camelot Lakes, Sarasota, FL: Apr 4, 2016 in regards to THE ALL-STAR PLATTERS REVIE
"What a dynamic concert! The former Platters continue to provide top notch, professional entertainment with their harmony, talent, audience connection and participation! Their song selections reminded us of younger times, while inspiring us to sing along and dance! Everyone raved about this concert and enjoyed it tremendously!"
---
From: Emily Geistfeld, Citrus Hills Golf & Country Club, Hernando, FL: Feb 23, 2016 in regards to CALIFORNIA SURF, INCORPORATED
"Anyone growing up in the early 60's and beyond will love this concert; for many of our audience members it was like stepping back in time. After the show, everyone was exclaiming "wouldn't it be nice" if they came back every year?! California Surf, Incorporated definitely rocked the joint! They really sounded great and you could tell that their vocals and harmonies were authentic and true. The fact that they were the real deal and actually performed and recorded with the Beach Boys made it that much more spectacular. Everyone was singing along and tappin' their toes… couldn't ask for more than that!"
---
From: Lynette Reddix, Lyndon Music Group: Dec 15, 2014 in regards to GLENN LEONARD PRESENTS HITSVILLE LIVE
To Cord - It was such an honor to meet you and your fabulous artist, Glenn Leonard and his Hitsville Live band - they were Super!!!! Their magic on stage is simply phenomenal, bringing the sound of Motown had the audience dancing and singing along as we all enjoyed their performance. I'm already receiving emails for future performances from them in the upcoming 2015 year. Thank you again for everything and look forward to future endeavors!!
---
From: Jane Noelte, TSMB Productions: June 19, 2014 in regards to GLENN LEONARD'S TEMPTATIONS REVUE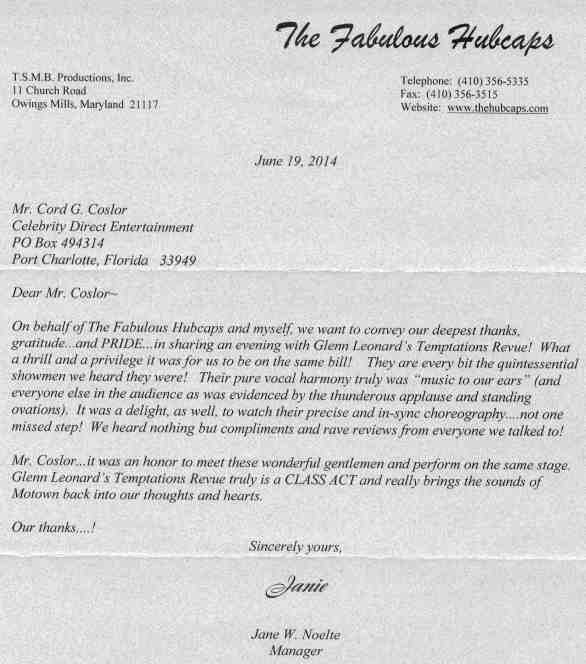 On behalf of The Fabulous Hubcaps and myself, we want to convey our deepest thanks, gratitude... and PRIDE... in sharing an evening with Glenn Leonard's Temptations Revue! What a thrill and a privilege it was for us to be on the same bill! They are every bit the quintessential showmen we heard they were! Their pure vocal harmony truly was "music to our ears" (and everyone else in the audience as evidenced by the thunderous applause and standing ovations). It was a delight, as well, to watch their precise and in-sync choreography... not one missed step! We heard nothing but compliments and rave reviews from everyone we talked to!

Mr. Coslor... it was an honor to meet these wonderful gentlemen and perform on the same stage. Glenn Leonard's Temptations Revue truly is a CLASS ACT and really brings the sound of Motown back into our thoughts and hearts.
---
From: Jackie Howard, Jac-Ron Entertainment: Mar 21, 2014 in regards to GLENN LEONARD PRESENTS HITSVILLE LIVE
(Former Temptations member) Glenn Leonard, lead singer, and the performers in this show were simply amazing. Each song was perfected. The three female singers were superb. The band is smokin! The interaction with the audience made the atmosphere very happy and friendly. Such fun for them to relive all the hit Motown wonderful songs and more. They had the audience up and out of their seats dancing in the isles. A standing ovation before they were on the last song, "Keep on truckin'"! Absolutely a fun show to see and have a great night! Don't miss this show, GLENN LEONARD, Former Lead Singer of the Temptations, presents HITSVILLE LIVE!
---
From: Shirley George: newspaper correspondant in Port Charlotte, FL: Mar 3, 2014 in regards to CELEBRITY DIRECT ENTERTAINMENT, FRAN COSMO, THE REFLECTIONS & CALIFORNIA SURF, INCORPORATED
Charlotte County is fortunate to have Celebrity Direct Entertainment (CDE) that brings extraordinary shows to various venues. I have enjoyed three outstanding performances, and look forward to many more.
In November 2013, Fran Cosmo, former lead vocalist with 'Boston,' and Anthony Cosmo rocked the Englewood Event Center. A local classic rock band, American Made Band, opened the act and the dancing began!
I loved the doo-wop Christmas show performed by one of my all-time favorite groups, 'The Reflections,' at the Cultural Center of Charlotte County in December 2013. Although I had danced countless times to their 1964 smash hit, "Just Like Romeo and Juliet," back then, I had never seen a live performance. These four guys still know how to entertain, and they wowed the audience with their renditions of songs by artists such as the Drifters, Coasters, Dion and the Belmonts, Platters, and more.
Kudos to Cord Coslor, owner of CDE, for providing excellent entertainment, and the praise comes from performers as well. Gary Banovetz, said, "In my humble opinion, Cord Coslor is the very best promoter The Reflections has ever worked with. Cord treats the artists with total respect, integrity and honesty. He makes us feel like family. We always look forward to working with CDE." I agree with Gary. As a Charlotte Sun correspondent, I had the pleasure of working with Cord on the promo stories for shows. He is dedicated to bringing the 'best of the best' entertainment to our area.
It was a big party at the 'California Surf, Incorporated' show in February 2014 at the Cultural Center Conference Center. Thank goodness the dance floor was large; I had a blast dancing to some of my favorite songs. The five-member group featured members who toured and recorded with the legendary 'Beach Boys' and rocked the house with hits such as 'Surfin' USA,' 'Kokomo,' 'Good Vibrations,' 'Help Me Rhonda,' and many more.
Keep 'em coming, Cord! Shirley George
---
From: Fred Barry: Edison's in Ft. Myers, FL: Feb 13, 2014 in regards to GLENN LEONARD PRESENTS HITSVILLE LIVE
Good afternoon Cord and Glenn
I wanted to take a moment and thank the you, Glenn and company for helping to make the first concert series event a success. You all did a FANTASTIC job! (The) crowd was loud and everyone said they had a wonderful experience and would definitely do it again. The food, the service and the entertainment was all quality and appreciated by all that attended. If we [...] continue to build on this event we can create a lucrative income base by doing these type of events on a regular and basis.
I look forward to working with you in the future in obtaining some acts that will fit our budget and be a win for all.
Thank you again gentleman it was an honor to host this event.
Fred Barry
Talent !
Entertainment Management & Booking
---
From: Marleen Donaldson: Captiva Island Yacht Club in Captiva, FL: Feb 5, 2014 in regards to CALIFORNIA SURF, INCORPORATED
Dear Cord -
What a concert! Thank you so much for bringing the surfer sounds to the Captiva Island Yacht Club. Compliments were abundant last night & today, & many said your concert at the club was the best party ever! It was so good seeing our members having so much fun -- all thanks to you and California Surf, Incorporated !
Looking forward to more "cool sounds" from you and Celebrity Direct.
My best,
Marlene
---
From: Mark Asciutto in Port Charlotte, FL: Feb 18, 2014 in regards to GLENN LEONARD'S HITSVILLE LIVE
Dear Cord, thank you for bringing Glenn Leonard Presents Hitsville Live to Visani. All I can say is wow! Many shows would just perform using a famous name then skimping on the back up talent. But I must say that all 9 members of the group are amazing. The others singers in the group could easily perform their own show to sold out shows. And Glenn Leonard still has it and it shows why he was a lead singer for "The Temptations". The combination of Glenn with the entire group truly put me in a place when music was great. I personally loved the show and had many of my customers share the same thoughts and feelings. Performing a true live show in this day and age amazes me. Their group could easily sacrifice quality for money and play tracks, but they don't. Glenn Leonard Presents Hitsville Live is a Las Vegas quality show. I wish them all the best and hope they can return in the future to perform on my stage.

Mark Asciutto
Visani Dinner Theater
Port Charlotte, Florida
---
From: Karen Lewis in Bennettsville, SC: Jan 13, 2014 in regards to GLENN LEONARD'S HITSVILLE LIVE
I would like to say how great it was to work with Glenn and the rest of the Hitsville performers. Really is an enjoyable to work such nice and talented people.
---
From: fan/photographer in Panama City, FL: March 3, 2013 in regards to CALIFORNIA SURF, INCORPORATED
It was a pleasure to meet you, the group members, and JoAnn last night. Please thank all the performers for their high quality and high energy show and for the memories they brought back for us. The humility of you and your performers sets you apart from many others. That's a trait that made the evening all the more enjoyable. It was a very special treat...

BRUCE BUHROW
---
From: Ron Campbell in Roberts, WI: February 16, 2013 in regards to SONNY BRYANT'S TRIBUTE TO THE PLATTERS
Cord: I just wanted to touch bases with you. The show that Sonny put on was great. I mean it. He is a class number one entertainer, with a great voice. He really got the crowd Saturday night going, and feeling excited. Some couldn't help but get up and dance in the isle during some of the songs. Everyone came up to me during the break and after the show to let me know how much fun they had, and how much they like Sonny and his music. I couldn't believe how many people went up to Sonny after the show to let him know how much they enjoyed him. I even had a couple people say that we need to get Sonny, Doc, and Marv back again sometime soon and do it again. I believe that word of mouth from these people will make the next show even bigger. Thank you again for your help.

Ron Campbell
---
From: Rex & Connie Parent in Ft. Wayne, IN: June 30, 2012 in regards to GLENN LEONARD PRESENTS HITSVILLE LIVE
Dear All Members of Glenn Leonard Presents Hitsville Live:

That you for the best party ever for our family & friends. I have received many notes from guests to thank us for inluding them & featuring music that we all actually know the words to! We will always cherish the mories. We wish you the best & God Bless all of you.
---
From: Denice Blajian, FleaMasters in Ft. Myers, FL: Feb 24, 2011 in regards to Rus Anderson Presents The Rocketman: A Tribute to Elton John
Good day Loren:

Sorry for delay in sending this note, but I would like to thank you and Cord for the great act we had in our Music Hall recently. The Rocketman Show: Elton John Experience was great. The band was tight and Rus was right on. The comments were excellent, people told me they actually felt as though they were at an Elton concert. Costumes and props were great. I would recommend this show to anyone. This would be the only Elton show for me. On top of Rus and his band doing a great job they were so easy to work with. My techs were ecstatic. Celebrity Direct delivers only the best. Thank you again, I remain, Sincerely, Denice Blajian - Event Director
---
From: Michael McDonald, GM of the Royal Poinciana Golf Club in Naples, FL: Feb 18, 2011 in regards to Wilson Williams & His Platters

1600 Solana Rd. • Naples, FL 34105
239-261.6123 • mmacdonald@rpgolfclub.com

Thank you so much for providing Wilson Williams & His Platters for us on February 2, 2011. We set a new attendance record for an entertainment night with 430 attendees enjoying the show.

Wilson Williams and the rest of the Platters were a pleasure to work with and their songs brought back many memories for all.

I look forward to discussing future events with you.

---
From: agent Fred Montilla re: Glenn Leonard's Temptations Revue 2010
Fred Montilla
FJM Productions, Inc.
7305 West Sample Road, Suite 101
Coral Springs, FL 33065
Tel: 954-753-8591
Fax: 954-753-5146
Web: www.fjmproductions.com

Glenn Leonard's Temptation Revue was a pleasant surprise! They were all excellent singers and performers. Their show represented the essence of the Temptations. They handled themselves as pros on and off stage. I would not hesitate using or recommending them to anyone in the future.

Working the deal out with Cord Coslor from Celebrity Direct was also a no-nonsense experience. He delivered the act such as he described it. I left the engagement along with my client very satisfied. Thank you!
---
From: Aaron Williams :: Newspaper staff member re: Glenn Leonard's Temptations Revue 2010
| | |
| --- | --- |
| | I thought the show was a lot of fun. I was there on business – taking photos for the newspaper, but I've been a Temptations fan for a long time, and I really enjoyed listening to the group. The voices, the dress, the steps – it really was a experience! Though most of what I saw was through the eye of a camera lens, the group definitely put a smile on my face and I was singing and humming along to each song. It was also nice to get to meet the guys after the show. They were really nice, and made me wish I had more time to talk to them – but I couldn't because I was running short on time. But I really enjoyed them. |
---
From: The Animal Welfare League of Charlotte County (FL) re: Golden Memories show with Glenn Leonard's Temptations Revue, Wilson Williams & His Platters, Pam Darden's Marvelletes Revue, and Ron McPhatters Tribute to The Drifters
Dear Celebrity Direct,

On March 18th, 2010, the Animal Welfare League had their first concert which featured: Wilson Williams & His Platters, Glenn Leonard's Temptations Experience, Pam Darden's Marvelettes Revue and The Legacy of "Clyde McPhatter & The Drifters" as performed by his son Ron David McPhatter, the performers were outstanding!

We would like to thank Cord Coslor and Wilson Williams for the direction they provided us and assisting us with the questions and concersn that arose. Mr. Coslor worked very hard side by side with the Animal Welfare League to make sure everything ran smoothly and productively, and it did! We look forward to continue working with Mr. Coslor for our annual concert to benefit the homeless animals of Charlotte County, Florida.

We at the Animal Welfare League would like to extend our gratitude for guiding us in one of the most successful fundraisers in Charlotte County, Florida ever.

Sincerely,

Aggie Aguila
Assistant to the Director
---
From: Reinhard Haubner on behalf of Four Points Sheraton Chateau Elan - Sebring, FL re: country music legend David Frizzell
Dear Mr. Coslor,

David Frizzell made our day with his performance at the Four Points by Sheraton Sebring, Chateau Elan. Both his first and second act was outstanding, he is a true showman getting his audience involved with the show.

During break, our guests truly appreciated the way he stood and gave autographs and posed fro pictures. He was down to earth and seemed more than happy to be there with each and every one. We have received several compliments regarding the quality of Mr. Frizzell's show and his remarkable performance. Many want to know when he will be back at the Chateau Elan.

As always, it is a pleasure to work with Celebrity Direct Entertainment.

Sincerely,
Reinhard Haubner
GM, Four Points by Sheraton

---
From: Deb Picard on behalf of DB Sound Systems - Port Charlotte, FL re: Cord Coslor and Celebrity Direct Entertainment
Dear Cord Coslor,

DB Sound Systems would like to extend its appreciation for all your work on our shows at The Charlotte County Expo Hall of The Bellamy Brothers and David Allan Coe.

The information and work that you provided for advertising with both the radio stations along with the newspaper ads along with setting up radio interviews with the acts was very impressive.

DB Sound Systems has the experience to know all of what is needed to be done on production. The other details that you handled of coordinating the feeding of the acts, payment with management, meeting the acts on the edge of town and getting them to the facility were all very much appreciated and were less details for our company to handle. We work with many agents and we have never experienced an agent to go so far above their job description to insure every detail was covered and handled.

Cord, to sum it up, it was best said when Don Brown from our company mentioned you were doing everything shy of parking the cars.

Sincerely,
Debra Picard
DB Sound Systems, LLC

---
From: Thomas Stephens on behalf of Stafford Township Educational Foundation - Manahawkin, NJ re: Wilson Williams & His Platters
Dear Wilson / Celebrity Direct Entertainment:
I know it has been several months since you, Sase', Lonza, Melvin and the crew visited us at the Stafford Township Arts Center's OceanFirst Theater, but I could not allow another minute to go by without reaching out to you. Having you perform in our soon to be annual Rockin' Oldies Valentine program truly made the holiday this year spark for hundreds of audience members who chose to celebrate the night of love with us. You are a credit to the legacy of The Platters with your skillful vocals and natural ability to generate sincere public appreciation.
I never thought that a program could make a conventional theater audience jump to their feet to dance in the aisles. Your February 14th was honestly one of the best programs we have presented to date. I continue to receive letters and e-mails from patrons asking when we plan to have you return. Of course, I have to admit, I look forward to a return engagement myself.
Each of you was a joy on and off the stage. Having met each of you, I have a better understanding of what Louis Armstrong meant when he said, "I never tried to prove nothing, just wanted to give a good show. My life has always been my music, it's always come first, but the music ain't worth nothing if you can't lay it on the public. The main thing is to live for that audience, 'cause what you're there for is to please the people." All I can say is that if our audience members were not fans before, by the end of the evening everyone was a convert. And, as you'll remember, most attendees left with autograph and CD in hand.
Thank you again. Please always let me know when you'll be in our area.
Sincerely, Thaomas L. Stephens, Exec. Director
---
From: Amy Raspa - limo driver - Pam Darden's Marvelettes Revue
Dear Miss Darden,
I was your Limo driver to the Philadelphia Airport from Manahawkin NJ this past Sunday morning. Thank You for being one of the nicest celebrities I have ever met! As a cook in Atlantic City for the past 30 odd years, I have met some famous people. Some have been just a passing "Hello", others have been in extended conversations. Isn't nice to know you rate among the tops of all these people? I hope I drive you again if and when you come back to the South Jersey area. It was a pleasure. Amy Raspa - Little Egg Harbor, NJ

---
From: Tammy Barber on behalf of South Carolina Ballett - August 27, 2005 - Surf City All-Stars

Cord ~
The event was spectacular! The weather was perfect, the food was outstanding, the nine open bars (including the five specialty bars) were awesome...and the Surf City All Stars rocked the house!
We had over 1,500 patrons, two magazines, two newspapers, three TV stations and two radio stations attend. The trees on the grounds were covered in white lights (loaned by the City of Greenville), we had hundreds of stars hanging from trees, décor bounding beach balls everywhere, tiki Gods with flaming torches, bubble machines, etc.,etc, etc.
You can speak with the band, but I am sure they had a total blast. After they performed, they freshened-up, changed clothes, (they were free to hang out in the rec room downstairs which is where they chilled before they performed) but instead, they went out, walked around the grounds to visit all of the fifteen restaurants' tents, talk to people, etc. and had the best time.
Sunday the band called from the airport just before they flew out and David told me the band wanted me to know that they all agreed it was "the smoothest run, most visually exciting, most hospitable event they had ever played in their careers." WOW...they didn't have to call us back at all...what a wonderful thing to say and do. They said they'd play it again next year if we wanted them. :)
We had Williamson-Evens here filming the event and we will send you a copy for your files. It was OUTSTANDING! We are SO pleased...and now...the only thing I need is one week at a spa to recoup from the 10 months of planning. :)
Thanks so much for all your help...I could not have done it without your partnership. We'll be talking soon about Beach Ball 2006...any ideas?

Tammy PS: Hope to see YOU at Beach Ball 2006. :)

---

Thanks, Cord, for the gig and all you did to make it happen. It turned out great and I think everyone was happy. Tammy was cool and seemed to like our show. We went to the wrong terminal for the flight (private jet), but after that, it was smooth. Let me know if there are any other events we can do together.
Thanks again- David Logeman (of the Surf City All-Stars)
---

December 11, 2002

As the new General Manager of Harborside Event Center, I have been working with Celebrity Direct Entertainment to assemble an "Oldies Series" that not only brings amazing talent downtown to Fort Myers but also offers it an an affordable price without compromise to quality. When presented with the opportunity to bring "live" events downtown, I began to ask many of my colleagues and community leaders what their opinions were on the subject. Unanimously, everyone has shown both interest and excitement knowing that this is yet another positive step in the Downtown Redevelopment Plan. Many businesses have expressed interest in cross-promotion as well as sponsorship. Having promoted several hundred concerts in Miami and Houston, I believe this enthusiasm indicates that the residents and businesses of Fort Myers not only are interested in "live events" but also in the rejuvenation of Harborside Event Center and the downtown area.
[ ]
As you can imagine in the concert business, TALENT + AFFORDABILITY + UNCOMPROMISED QUALITY = "SUCCESS". I believe Celebrity Direct Entertainment has assembled all the components necessary to promote an amazing series for our community. On behalf of the City of Fort Myers, I thank you for your support of the Harborside Event Center and hope you will join me on Friday, January 17th at 7:30pm in supporting the inaugural event of the DOWNTOWN CONCERT SERIES, the "Elvis Presley Birthday Bash."

All the best wishes for success in 2003!
HAPPY HOLIDAYS!
Rose Bernal-Rundle, GM
.
** REGARDING CDE ARTIST AL HOLLAND **

Al was just wonderful!! Thank you, thank you, thank you!!

Although the weather wasn't ideal, I can't imagine another performer being as flexible or high spirited. Among the audience was my father, a bit of a musician himself with a critical ear, and Billy Sherrill, famous country music producer & writer of most recently named #1 song of all time, "Stand By Your Man". He is most noted as being the agent for Tammy Wynette & George
Jones. I didn't tell Al this before hand, of course & he doesn't like to be recognized but the reason I share this with you is that he truly was impressed with Al. I wanted you to know (please pass this on to him as well) that everyone, including the "experts" were very complimentary. If you could, please send me a business card, as I would like to have your contact info. as well as Al's name for future. We will definitely keep you in mind for upcoming needs.

Thank you for fast-tracking this along & for your great recommendation. I hope to keep in touch,

-Stephanie

KW Plastics Recycling - Sales/ Market Development - Pike County Lake Road - P.O. Drawer 707 - Troy, AL 36081 - 334 / 566-1563
.
** REGARDING CDE ARTIST AL HOLLAND **

Thursday, October 09, 2003 2:33 PM
Subject: DePamphilis/Farchione

Well, Lindsey and Jared's "Fairy Tale" wedding was a success and, along with the special couple, Al was the hit of the evening. EVERYONE was surprised and THRILLED. He was PERFECT. Don't tell Gene but, I think I have fallen in love with Al - ha ha. He is FABULOUS and everyone thoroughly enjoyed listening and dancing to his music. We would like to extend a thanks to Al but, do not have his address. I know when Lindsey and Jared return from their honeymoon, they too would like to send a note. Would you have his mailing address? And, we'd love to have a schedule of his upcoming performances so we can listen to his sweet/smooth tunes!!!!!!!

Again, thanks for all your help and cooperation in making L & J's wedding an extra special one. We will certainly be in contact with you again about Al performing at other functions we will be associated with. He is a "special friend" we'd love to keep in contact with!

Sincerely, Gene & Sherry Zvolensky and the "New" Lindsey and Jared Farchione
...

| | |
| --- | --- |
| | CDE NATIONAL HEADQUARTERS: PO Box 494314 * Pt. Charlotte, FL * 33949 * (941) 624-2254 * E-MAIL |