..

..

RETURN TO



www.celebritydirect.net

.
.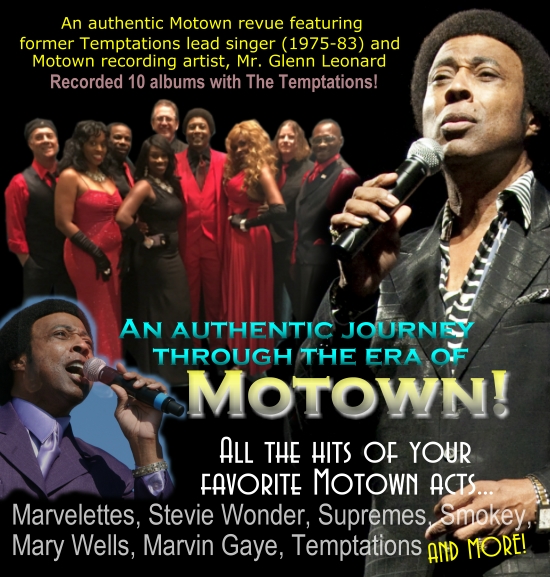 .
Take a journey back in time with us to simpler times, through an evolution of music that was created by Motown, and at the same time represented the evolution of the United States. A new sound was created in 1960, and Motown became the most successful record company in existence.
Remember the days of Kennedy, the early space program, and the New York Yankees winning the 1961 World Series with one of the greatest teams in baseball history? We'll take a video journey to those days... while at the same time we'll relive the tunes that created a new musical generation!
Remember The Temptations, The Supremes, The Marvelettes & Smokey Robinson? Those are just some of the artists that are showcased live on stage --- by an all-star cast of musicians and vocalists - all being led by former Motown recording artist, and former lead singer of The Temptations from 1975-83, Mr. Glenn Leonard. Glenn recorded 10 big albums as the Temptations lead tenor, was the signature voice on the Temptations rendition of Silent Night, and is a 2013 R&B Music Hall of Fame Inductee. He's toured the world many times over, and is pleased to be bringing you - live on stage - Glenn Leonard Presents Hitsville Live! ...