.

.

..

.

.

....

.
VARIOUS 'PLATTERS' GROUPS
.
Currently, there are at least twelve Platters groups performing in the United States. We hope to also soon include more Platters groups world-wide, so if you know of *any* others, in the U.S. or abroad, or have further details to provide, please e-mail us by clicking the link to the left.
Just click on any of the photos below to go to a page for that group. We will attempt to eventually provide schedules, merchandise that is available, links, and group biographies and history on each featured group on their particular site.

Herb Reed of The Original Platters & His Group

This group is led by original Platter Herb Reed, and is based out of Massachussettes. This group, which can often be found performing on cruises, features Herb Reed, Billy Cox, William Newton, Wayne Miller, and DD Martin. UPDATE: Mr. Reed passed away in 2013

Sonny Turner's Platters

This group is led by Sonny Turner who was the 2nd lead singer for The Platters from 1960 until 1970, and is based out of Las Vegas, NV. This group lists Sonny Turner, James Austin, Morris Williams, Herb McQuay, and Adel Martin as its members.

The Platters Featuring The Legendary Monroe Powell

Based out of Las Vegas, this group features the Platters 3rd lead singer, Monroe Powell. He has continuously led The Platters since 1970, after performing and recording with The Dominoes and The Ink Spots. The Platters feature Monroe Powell, Don Gloude, Chicago Lamar, Robbie Robinson, and Deborah Sherman. (updated 8/1/07)

Wilson Williams & His Platters

Made up primarily of members of Monroe Powell's group before he left in 2007, this group normally is a 4-member group. 2008 has seen additional members from other Platters groups past and present, and is led by Wilson Williams. This group also features other former members of the Platters from time to time. UPDATE: During 2011-12, WIlliams group also included former Platter Ray Brewster. Currently this group features a variety of members which also include Sase' Brandon and Verceal Whitaker.

Jones & Mathews Tribute To The Platters

Coming from Detroit, Michigan, Ritchie Jones was originally hired by Platters founder Buck Ram during the mid-1980s. He went on to a long career as lead singer performing for the Paul/Martha Robi Platters. Today, he is joined by Darrell Mathews (also of the Buck Ram Platters), Diane Mathis, and Mario Kinsey on stage. From time-to-time, he and Mathews also take part in "An All-Star Platters Review" featuring other former members of The Platters. 3/18/08: update: we've heard they are now using the name of FMO The Platters (former members of).

An All-Star Platters Revue

This lineup features members with ties to a variety of Platters groups through the years, and comes self-contained, as they also handle all instrumentation, featuring two keyboards and guitar. Lead singer Ritchie Jones previously performed with The Buck Ram Platters and Martha Robi's Platters group, music director/keyboard player/vocalist Darrell Mathews was with The Buck Ram Platters, and Al Holland (vocals/keyboards) and Gary Harvey (guitar) both had long tenures with Monroe Powell's Platters group. UPDATE: This configuration has not worked for several years.

The Buck Ram Platters

This group has no original members, is based out Las Vegas, NV and is managed by Jean Bennett of The Personality Group. This group now features Tyrone Sweet, Herb Rawlings, Paris Red, Darrell Scott, and John Haynes. UPDATE: This group no longer features Tyrone Sweet. Mr. Sweet has his own tribute group.

The World Famous Platters

This group, based out of Branson, MO., has no original members. Two of this groups members appeared with Zola Taylor's independent group, as well as with Tony Williams in later years. It has been licensed to perform by Jean Bennett of Personality Productions. The World Famous Platters members now consists of Lawrence "Rooster" Lockard, Eddie Stovall, Willie Nash and Rico Johnson.

The Platters

This group, which features no original or "legitimate" members, can often be found performing in Las Vegas, NV casinos. It is managed by Larry Marshack of RCI Corp., and has been licensed to use The Platters name by Jean Bennet. This group features Derek David as lead. Several incarnations of this group supposedly exist, often under the billing of East or West Coast Platters.

Bernard Purdie Salutes The Platters

This group features no original Platters. Purdie, however, was a member of a Platters group for a time (not to be mistaken for the very well-known drummer). This group is based out of Virginia, managed by a Canadian Company, and features Bernard Purdie, Billy Lee Hughes, George Cox, and Laurie Anderson (wife of Gary U.S. Bonds).

We've recently received new information that Mr. Purdie is no longer performing. The rest of the members have joined a Canadian based Platters group (The Legendary Platters) which is shown below.

The Magic Platters (France)

Led my former member of The Platters, Ella Woods, this group makes its home in France.

update 8/1/07: Ella Woods has contacted us to let us know this group has been been based out of Belgium. Rumor has it that she is coming back to the United States.

Looking for more information on this group!

"The Amazing Platters"

Fronted by bass man Eddie Daniels, this California-based group also featured Robbie Robinson (of The Ink Spots & Dominoes) as 2nd tenor, Jessica Taylor, and Adrian Pepo on lead. Several of these members will often also be found with additional groups of Platters, Ink Spots, etc.

3/20/02: Monroe Powell recently appeared with this group in The Phillipines, and fronted for them on an Ink Spots show.
1/7/03: Both Jessica Taylor and Robbie Robinson are performing with Monroe Powell's group.
101/10/03: Adrian Pepo passed away on September 1, 2003


UPDATE: Going way back to 2002... it appears that in fact this was a seperate group that Monroe performed with in the Phillipines. It was, in fact the Marvelous Platters, of which Eddie Daniels was not a part of.

"Zola Taylor's Platters"

Members of this group include Latif Shadi, Larry Hicks, BJ Mitchell, and Princess Valera Brown. Mitchell was with Robi's group during the 1980s. Adrian Pepo also appears with variations of this group. The basis to this group is that one or more of the members were with Zola's group before she became ill, and they are often found performing over-seas.


"The Legendary Platters"

This group is based out of Canada and is comprised of several members who previously appeared with Purdie's groups. Members include Oscar Charles, Dee LaRoch, George Cox, and Jimmy Dooley -- or a variation of that lineup.

"The Golden Platter"

Milton Bullock was in the Buck Ram led group from 1965-70 and is performing as "The Golden Platters" out of Milwaukee, Wisconsin with the permission of Jean Bennett and Personality Productions.

The Magic Platters (Deutchland)

I honestly have no information on this group exept that it is a quartet located in Deutchland. This group shouldn't be confused with Ella Woods group in France

Looking for more information on this group!

Sounds of The Platters (United Kingdom)

Have very little information on this group. This group is based out of the United Kingdom and features a quartet consisting of no females. If I'm not mistaken, this group does not perform to live music, but recorded renditions of The Platters hits. Members include William Lessenberg, Myles Kaine, Gary Bardoville, and Gee Bello.

Looking for more information on this group!

Joe Coleman's Platters

We recently obtained information on this group (thanks Rex!) and know the lineup to be Barry Gunn, Denise Morgan, Arnold Parker, and Joe Coleman (lead). Looking for further information. UPDATE: This group does not regularly perform any longer. Mr. Coleman performs as a solo artist, with his group LCB, and with Glenn Leonard's Temptations Revue.

Platters Eighty One

Have very little information on this group. Apparently this group operated out of Europe in the 1980s. No further information.

Looking for more information on this group!

Jesse Furgeson's Platters

Ferguson was with a group called the "original Platters" during the 70s and 80s, and now has his own group.
.

We have recently obtained information on, and contacted, many more artists performing as the Platters worldwide. Fortunately, we have also personally come in contact with many of those artists and groups listed on the yet incomplete roster page, and many more! Keep tuned into this page for further information and photographs!

PLEASE CONTACT US IF YOU KNOW OF *ANY* OTHERS THAT HAVE TIES TO ANY PLATTERS GROUPS!!
.
....
...

.
.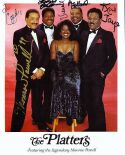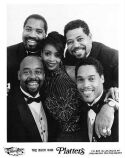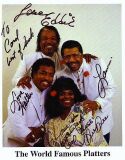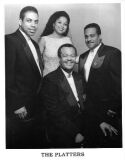 .