From: Jim Kinsey :: Valley Cultural Center - Summer Series, Woodland Hills, CA 7/18/16
Fantastic!!! I have NEVER (EVER) worked with such gracious, nice and amazing people. We were blown away with the performance, attitude and willing to us raise funds during intermission. ... We are VERY happy - thank you.
---
NEWSPAPER ARTICLE: 9/3/14
By SANDY SEOANE, Staff Writer: The Valley Breeze : 9/3/14 - Woonsocket, RI

WOONSOCKET - Some of the most accomplished musicians from the golden age of Motown will grace the stage at the city's 36th annual Autumnfest celebration, performing well-known hits from an era that changed American music and culture.
Glenn Leonard's Temptations Revue, led by the former first tenor and lead singer of one of Motown's biggest acts, the Temptations, will headline the Columbus Day weekend celebration.
Leonard, a 2013 inductee into the R&B Music Hall of Fame, was a member of the band from 1975 to 1983, and sang on 10 Temptations albums. He will be joined by the likes of Joe Coleman, former lead singer of The Platters; bass singer John 'Doc' Devone; Andre Jackson, formerly of The Choice 4;and musical director Ron Hasley.
While some members have changed, the band has toured the U.S. since 2002, and has made appearances in France, Australia, Denmark, the Middle East and Brazil.
The Revue will perform a full blend of the Temptations major hit songs, accompanied by smooth choreography and a renowned stage personality. With hits including "My Girl," "Ain't Too Proud to Beg," "I Wish It Would Rain," and "Treat Her Like a Lady," the band was not only one of the most consistent and talented from the Motown era in terms of record sales and appearances, but also one of the most successful groups in music history.
T.H. Malloy
Leonard joined in 1975, after the group was already established as a pop hit powerhouse. He was recruited for the lead role after finding success with several other original groups including the Chancellors, Instant Groove, True Reflections and the Unifics.
"Just the idea of being part of something that you dreamed about as a youngster was a tremendous experience to say the least," said Leonard. "It was also a tremendous challenge to uphold the tradition and legacy of what they had already accomplished and to be counted qualified to be part of what the group meant to so many other young people as a point of inspiration."
Hits during Leonard's reign included "Ever Ready Love," "I'm on Fire," and "The Best of Both Worlds." His performance of "Silent Night" on the band's 1980 Christmas album is one of most often-heard songs on the radio, worldwide, at Christmas time, according to a press release.
"What is perhaps the most remarkable about the group has been their ability to completely change personnel over their 40 year history without affecting the quality of their music or performances," Leonard said.
The actual Temptations are still touring and the only living original member, Otis Williams, is still with the group.
One of Leonard's most memorable times with the group was the during the making of a reunion album, followed by a tour with the bands most legendary past members.
"Sharing the stage and recording with the likes of Eddie Kendricks, David Ruffin, Dennis Edwards, Richard Street, Otis Williams and the greatest bass singer to ever live, Melvin Franklin," he recalled.
In 2002, Leonard decided to carry on the tradition, bringing together world-class talent in hopes to "give back" to the fans.
"Motown meant so much to our people and our country at the time when they first came on the scene," Leonard said. "It gave us a sense of hope and pride and great possibility for the future."
---
From: Jane Noelte, TSMB Productions: June 19, 2014 in regards to GLENN LEONARD'S TEMPTATIONS REVUE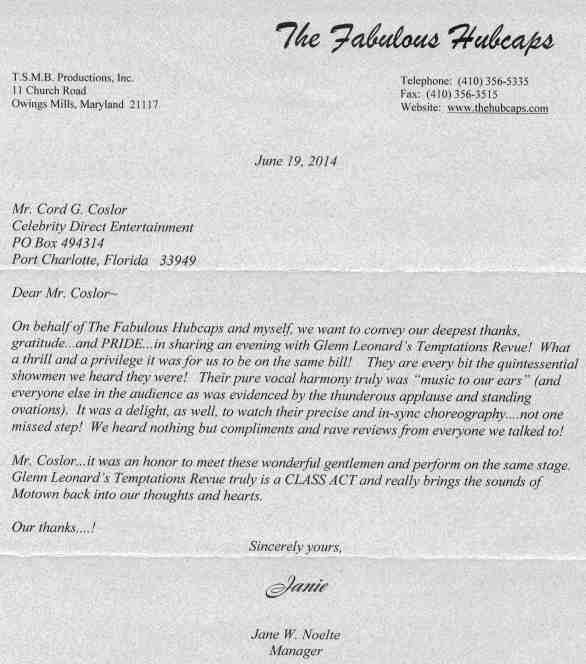 On behalf of The Fabulous Hubcaps and myself, we want to convey our deepest thanks, gratitude... and PRIDE... in sharing an evening with Glenn Leonard's Temptations Revue! What a thrill and a privilege it was for us to be on the same bill! They are every bit the quintessential showmen we heard they were! Their pure vocal harmony truly was "music to our ears" (and everyone else in the audience as evidenced by the thunderous applause and standing ovations). It was a delight, as well, to watch their precise and in-sync choreography... not one missed step! We heard nothing but compliments and rave reviews from everyone we talked to!

Mr. Coslor... it was an honor to meet these wonderful gentlemen and perform on the same stage. Glenn Leonard's Temptations Revue truly is a CLASS ACT and really brings the sound of Motown back into our thoughts and hearts.
---
From: agent Fred Montilla re: Glenn Leonard's Temptations Revue 2010
Fred Montilla
FJM Productions, Inc.
7305 West Sample Road, Suite 101
Coral Springs, FL 33065
Tel: 954-753-8591
Fax: 954-753-5146
Web: www.fjmproductions.com

Glenn Leonard's Temptation Revue was a pleasant surprise! They were all excellent singers and performers. Their show represented the essence of the Temptations. They handled themselves as pros on and off stage. I would not hesitate using or recommending them to anyone in the future.
Working the deal out with Cord Coslor from Celebrity Direct was also a no-nonsense experience. He delivered the act such as he described it. I left the engagement along with my client very satisfied. Thank you!
---
From: Aaron Williams :: Newspaper staff member re: Glenn Leonard's Temptations Revue 2010
| | |
| --- | --- |
| | I thought the show was a lot of fun. I was there on business Ė taking photos for the newspaper, but Iíve been a Temptations fan for a long time, and I really enjoyed listening to the group. The voices, the dress, the steps Ė it really was a experience! Though most of what I saw was through the eye of a camera lens, the group definitely put a smile on my face and I was singing and humming along to each song. It was also nice to get to meet the guys after the show. They were really nice, and made me wish I had more time to talk to them Ė but I couldnít because I was running short on time. But I really enjoyed them. |
---
From: The Animal Welfare League of Charlotte County (FL) re: Golden Memories show with Glenn Leonard's Temptations Revue, Wilson Williams & His Platters, Pam Darden's Marvelletes Revue, and Ron McPhatters Tribute to The Drifters
Dear Celebrity Direct,

On March 18th, 2010, the Animal Welfare League had their first concert which featured: Wilson Williams & His Platters, Glenn Leonard's Temptations Experience, Pam Darden's Marvelettes Revue and The Legacy of "Clyde McPhatter & The Drifters" as performed by his son Ron David McPhatter, the performers were outstanding!

We would like to thank Cord Coslor and Wilson Williams for the direction they provided us and assisting us with the questions and concersn that arose. Mr. Coslor worked very hard side by side with the Animal Welfare League to make sure everything ran smoothly and productively, and it did! We look forward to continue working with Mr. Coslor for our annual concert to benefit the homeless animals of Charlotte County, Florida.

We at the Animal Welfare League would like to extend our gratitude for guiding us in one of the most successful fundraisers in Charlotte County, Florida ever.

Sincerely,

Aggie Aguila
Assistant to the Director
---
---
CHATEAU ELAN WELCOMES THE TEMPTATIONS REVUE

By R.T. BYRUM

Like so many Highlands County music lovers, I remember singing along with the radio, ďIíve got sunshine on a cloudy day. When itís cold outside Iíve got the month of May. I guess youíd say, what can make me feel this way? My girl, takiní Ďbout my girl.Ē
On September 4, we can all sing along, not with the radio, but with Glenn Leonardís Temptations Revue...in person! You read that right. ďMy Girl,Ē and dozens of other Temptationsí hits will be performed live at Four Points Château Elan, 150 Midway Drive next to the Sebring Raceway.
The Sheraton Hotelís General Manager, Reinhard Haubner, has already brought famous groups like The Drifters, The Coasters, The Shirelles, Fran Cosmo, former lead singer of Boston, and David Frizzell to Sebring. He continues that string with the Revue featuring Leonard, the lead singer of the group from 1975-1983.
He recruited professional singers to honor the memory of Temptations members who have passed on. The sounds and choreography of the Temptations Revue are a perfect tribute to one of the best-loved and known Motown recording stars, a group that dominated the stage and airwaves in the 60ís.
Glenn, lead singer, and also an ordained minister, picked Kareem Ali from the Vandelles as a vocalist, a music producer, and a great choreographer. Doc Devone, is the groupís bass singer, filling the big shoes of the late Melvin Franklin. Pete Marshall, baritone, was formerly a member of Choice 4. Freddy Black has performed with the Drifters and the Five Heartbeats.
Some of the familiar Temptations tunes among their 37 Top Ten Hits included: Since I Lost My Baby, Ainít Too Proud to Beg, Beautyís Only Skin Deep, I Know Iím Losing you, I Wish It Would Rain, and, of course, My Girl.
There are three event packages available starting as low as $39 per person plus tax for the show only. For only $20 enjoy dinner starting with shrimp with homemade cocktail sauce, your choice of Chicken Piccata, or sliced prime rib, with tossed mixed green, sautéed vegetables, roasted red potatoes, rolls and butter, and a Viennese dessert table that includes homemade parfaits, pies and cakes. All tickets include 2 free house drinks per person.
The premium package is $69 and includes a one-night double-occupancy stay in a beautiful Sheraton room. Upgrades to deluxe suits are available at a fraction of the usual cost. Dinner is at 6 p.m. and the show begins at 7:30 p.m. with a brief intermission between two sets.
Once again, Four Points Chateau Elan is bringing the Heartlands big city entertainment at remarkably low cost. Registration is limited so call (863) 655-7200, and do it right away. If you looking for a memorable evening...youíve found it!

---
A Motown 'Silent Night' That Echoes Down the Years

By Neely Tucker
Washington Post Staff Writer
Friday, December 24, 2004; Page C01

In the winter of 1989, I lost my mind and moved from the beach in Fort Lauderdale, Fla., to Detroit, an inexplicable adventure that led me to discover sub-zero temperatures, some of the best musicians in the Western Hemisphere and my nominee for the best Christmas songs ever recorded.
A bold claim, I know. But this is a Christmas story about a time and place largely gone now, and I remember them both with great affection, and if I am swayed by season and nostalgia, then I just don't care. Because the first time I heard the Temptations' once-in-a-lifetime take of "Silent Night" -- the most Detroit, Motownized, gospelized Christmas song that it is possible to squeeze into six minutes -- was late one night in a Motor City bar where old Motown session musicians could sometimes be found.
It was a freezing, gloomy winter, and I was living alone in a rough, unfinished loft in a rough, unfinished part of town. The loft was above a pizzeria and down the alley from the morgue. There were mornings I walked down the alley, my footprints the only ones in the crunching snow, and they would be loading or unloading a heavy black bag from a hearse. It put the day in a certain perspective.
I worked at a newspaper for my pay, and in the evenings I ran a tab at a jazz dive called BoMacs, about three blocks from the morgue. They had terrific live music, greasy fish sandwiches and a generous pour. They were scarce with the lights and heavy with the heat in the winter and I liked it. You could sit at the bar and if you didn't start none there wouldn't be none.
It had to be closing time just before Christmas when, perhaps after the last set, someone turned on the recording of a deep voice reciting the start of " 'Twas the Night Before Christmas" over some twiddly organ-sounding thing. I rolled my eyes and started to drain the last of my drink when someone cranked up the volume. The song took a sharp turn. The drums kicked in with a downbeat intro, a da dum da dum, and then an electrifying preacher's voice said:
In my mind . . .
The guy next to me, I recall, said: "There go Dennis."
The drums and bass and a male chorus swooped in: tenor, baritone, bass. Together they took an irresistible four-note walk up the scale, whoo-ooh-ooh-OOH, and then the gritty preacher's voice said:
I want you to be free . . .
And then they came back down the same doo-wop staircase, OOH-ooh-ooh-ooh.
For all of our friends, I want you to listen to me . . .
The bass was so deep and the music so loud the stool beneath me seemed to vibrate. I was transfixed, there in the dim light and cigarette haze.
We wish you a meeeeeerrrrrrryyy Christmas . . .
All the voices came together and then out of nowhere an unearthly falsetto voice appeared in the darkness of the bar. It was gliding, swooning, sailing over the rest of the voices. It was the first time I had any idea of what they were singing.
Siiiilllleeennntttt Niiiiiggghhhtttt. . . . HooOOOllly NiiIIIIggghtttttt . . .
The guy next to me said: "That's Eddie there."
Somebody else: "Nah, man, that ain't Eddie. That's the brother that replaced him, what's his name."
"You don't mean David."
"Hell no I don't mean David. David was original Temps. I mean, what's his name. That other brother."
I was half listening to this conversation -- it would turn out the name they were looking for was Glenn Leonard -- and half listening to the song fill the place. Some people were at the tables, talking, finishing their drinks, the lights coming up now. It was late and time to go home. And yet I sat there.
Go on and rest your mind . . . and slllllleeeeepppp . . .
Melvin Franklin, he of the basso profundo voice, took a turn on the second verse, and what was most striking about the song unfolding was that this group known for Motown romance and the dance step known as the Temps Walk was doing a song of the Christian faith seriously.
The original five members of the Temptations had grown up in the Deep South and in the church, by which I mean the Protestant black church -- Baptist, really, of the type where it is pronounced "Babdist" -- and it was always one of the group's hallmarks that the gospel influence of their youth had infused the voices of their adult years.
But this was something else entirely. This was gospel emotion over a Motown beat with the lyrics of a classic European hymn. "Silent Night" was written nearly 200 years ago by a Austrian priest and a composer. The first time it was played was on Christmas Eve, 1818, in Oberndorf. By 1900 it had become a sacred classic, narrating the birth of the Christ child, God's son on Earth.
Alllllllll issssss callllmmmm, allllLLLLllll iisss brrriiiIIIght.
I had grown up down south in the Babdist church, too -- my mother played piano and organ in the church for 40 years -- and I had heard and sung that song since I was a tot. It was church. You didn't play with it.
And yet, I was sitting on a bar stool in urban Detroit these many years later, the streets outside were deserted and some of the deadliest in America, and there was the gritty voice of Dennis Edwards, the guy who did the lead on "Papa Was a Rolling Stone," and he was straight out preaching over the song's sacred verses.
As I sit around by the fireplace
Watching the gleaming tree
If I had one wish in this world
It would be that all men would be free.
"It was like magic," recalls Gil Askey, the veteran Motown composer, in an e-mail from his home in Australia. "If you've ever been in the Holiness Church, and seen those sisters scream when they're filled with the Spirit, you will know how I felt, or shall I say how the Temptations felt. They didn't want to stop, just grooved on out."
I don't know if the folks at BoMacs played that song from the radio or from a tape in the back. But it ended soon enough and the end-of-the-night clatter resumed. I drank up, paid up and left. I walked home to my loft and I felt both exhilarated and empty. Thrilled at how the song seemed to still hum in my bones. Empty because it was over and the night was long and there was no one to talk to. When something reaches out and touches your soul in the dark, it's not something you turn on the TV and forget.
The Temps' version of "Silent Night" is now nearly 25 years old. You can hear it on any pop radio station this time of year. Their "Christmas Collection" CD, which features the song, is No. 1 on Billboard's chart for older R&B albums this week.
Mark Anthony Neal, professor of popular black culture at Duke University and the editor of "That's the Joint!," rated the song in a recent article as one of his Top 10 Soul Christmas songs. "It's maybe half the original Temptations members on that record, it's one of the last things Dennis Edwards did with them, and I think you just have to call it the last really great Temps song," he says.
Leonard Pitts Jr., a music critic for 18 years, author and Pulitzer Prize-winning columnist, wrote the liner notes for the Temps compilation CD. There's no doubt, he says, that "Silent Night" is a transcendent moment.
"The arrangement is extraordinary. But spiritually, emotionally, it catches something above the hubbub, the lights, the shopping and Santa Claus, to what Christmas is actually all about," Pitts says. "It took the song back to its Christian origins and didn't do it in lip-service fashion. . . . If the hair on your arms isn't standing up by the second verse, you need to check your pulse."
So this is the part in the story when I tell you how the song was recorded at Motown in Detroit, at the tiny "Hitsville USA" studios on West Grand Boulevard on a snowy winter night back in the day, with the Rev. C.L. Franklin (Aretha's daddy) doing the arrangements, and I would love to, except for the fact that it isn't true.
The best Christmas song ever put to disc was recorded off Santa Monica Boulevard in Los Angeles in a couple of hours on a sunny day in the summer of 1980, according to Otis Williams, the only surviving original Temptations member.
"Gil Askey had the arrangements there when we went over to his house, so we sat down and worked out the melody line and vocals," says Williams, speaking from his home in Los Angeles. "Then we went to the studio. I think it took a couple of hours."
Dennis Edwards, who replaced the legendary David Ruffin as the group's lead vocalist (but who was also inducted into the Rock and Roll Hall of Fame with the others), earlier this week was shivering at his home in St. Louis, where the wind chill was 8 below. He bursts into a laugh when asked about his preachifying.
"It came from my background, being a preacher's son," he says. His father "had a little storefront church, the Macedonia Church of God in Christ, at 964 East Canfield in Detroit. Started out with about four members. I had grown up in that church, so sure, I knew 'Silent Night.' But this arrangement was so different. They played back the tape to us and there was an empty spot at the front. They said, 'Do something right in there.' So it just came out, like I was back at church. There was nothing written, nothing scripted. . . . Each year, I have to go back and listen to it again before we do Christmas concerts so I can remember what it was I said."
The passing of the years has lent the song, and the place where I first heard it, a bittersweet history.
The bar, BoMacs, is long gone, as are many of the older Motown session musicians I sometimes saw there.
Four of the five original Temptations are dead. Paul Williams, a suicide victim, has been dead for 31 years. David Ruffin died of an overdose in 1991. Eddie Kendricks died of lung cancer the next year.
Melvin Franklin, the sweet man whose deep voice is so prominent on "Silent Night," died after a series of seizures in 1995. In the wildly popular 1998 television miniseries about the group, it is his death that is the emotional coda to the film and the group's history. Sitting there, watching Smokey Robinson sing "Really Gonna Miss You" at Melvin's funeral, I confess I had a knot in my throat.
Perhaps that is why, as I walked home on a recent, frosty evening, when the radio on my headphones turned to "Silent Night," my step slowed and I paused, there in the cold. I closed my eyes waiting for the stoplight to change and remembered the winter in Detroit and the frost on the window glass and the first time I heard that song.
Lost among the footsteps and pinched faces of a million strangers headed home in the falling darkness, I wished that it wasn't all over. I wished that I could turn the corner and walk back into that bar in Detroit for one more round, one more song, before they closed the place and left us walking, streetlight to streetlight, through the long and empty night to come.