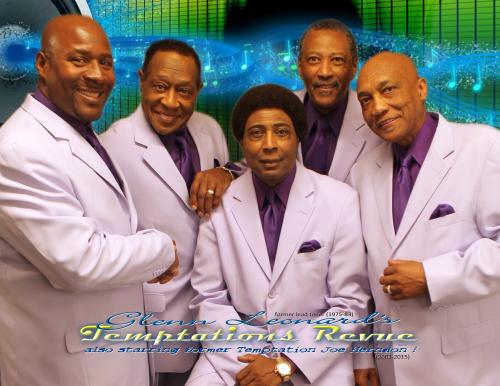 .PLEASE NOTE: Glenn Leonardís Temptations Revue is in no way affiliated with the actual Temptations. Glenn was a former member of the group from 1975-83. Buyers, venues and agents are not permitted to book, advertise, promote, or otherwise convey this show as anything other than what it is... a showcase of this former memberís talents and those of his fellow vocalists. Glenn acknowledges that Otis Williams, the only living original member of the group, is still with the actual Temptations, who are still touring.... and are also available to be booked through Celebrity Direct Entertainment....
---
OFFICIAL MERCHANDISE
---
All prices include shipping charges. To have your own items autographed by Glenn and/or the other members of his group(s), please click on the CONTACT link to the left, and contact us via e-mail.
ITEM

DESCRIPTION

PRICE

PURCHASE

Personally autographed color promotional photo. Hand autographed by Glenn Leonard. Please designate who you would like personalization made out to.

$20

From the archives: Glenn Leonard on an older 11"x8.5" photo of Mr. Leonard singing lead (only available until existing inventory is depleted). Hand autographed by Glenn Leonard

$15

Limited edition "Glenn Leonard's Temptations Revue" group-autographed photo (current photo at time of order will be sent)

$25

Limited edition "LIVE!" CD : includes 1) Try To Remember 2) Get Ready 3) Ain't Too Proud To Beg 4) The Way You Do The Things You Do 5) Wish It Would Rain 6) Old Man River 7) Papa Was A Rolling Stone 8) Can I / Tribute to Original Members 9) Just My Imagination 10) Glenn's Motivation / audience participation 11) My Girl 12) Cloud 9 13) Ball of Confusion 14) Can't Get Next To You 15) Losing You 16) It'll Be Alright - group members at the time this was recorded: Glenn Leonard, Kareem Ali, Ray Davis, John Devone, Freddie Black and Darnell Carter

$25

2014 officially licensed reissue CD (SoulMusic UK) of The Temptations Atlantic Records releases of "Hear To Tempt You" and "Bare Back" (1 compilation CD with 20 page insert with liner notes, photos, and historical thoughts and quotes from Glenn Leonard and Louis Price)


| | |
| --- | --- |
| Hear To Tempt You | Bare Back |
| 1. Think For Yourself | 1. Mystic Woman (Love Me Over) |
| 2. In A Lifetime | 2. I Just Don't Know How To Let You Go |
| 3. Can We Come And Share In Love | 3. That's When You Need Love |
| 4. She's All I've Got | 4. Bare Back |
| 5. Snake In The Grass | 5. Ever Ready Love |
| 6. It's Time For Love | 6. Wake Up To Me |
| 7. Let's Live In Peace | 7. You're So Easy To Love |
| 8. Read Betweem The Lines | 8. I See My Child |
| 9. I Could Never Stop Loving You | 9. Touch Me Again |

$25
We'll have more official CDs, videos, and autographed photos here soon!

.
GIVE US A CALL TODAY FOR BOOKING INFO! 941.624.2254
---