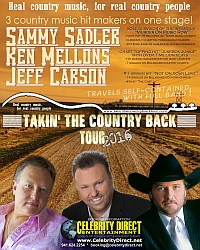 BIOGRAPHY:
Three chart-topping country singers take to the road in a self-contained unit to promote "real" country music to real country music fans!
JEFF CARSON: #1 smash hit "Not On Your Love" and #3 "The Car"
KEN MELLONS: smash hit "Jukebox Junkie" - over 1 million plays on radio
SAMMY SADLER: 4 top 15 records on the Texas Music Charts, currently on Eurpean charts, and sole survivor of the infamous "Murder on Music Row"
KEN MELLONS: Born in Kingsport, Tennessee and now living in Nashville, the original "Jukebox Junkie" has been crafting top charting hits since the 90's for himself and the likes of George Jones, Dierks Bentley, George Strait, Hank Williams Jr, and Mark Chesnutt. Ken will bring these classics to the tour, highlighting his 20th anniversary Jukebox Junkie project and introduce fans to some new music as well
JEFF CARSON: Born in Tulsa, Oklahoma and now living in Tennessee, Carson whom fans will remember for his hit single "Not On Your Love" which shot to #1 in the mid-90's and was followed by the Top 10 hit, "The Car." Jeff who left the music business in 2009 to become a police officer, comes out of his musical retirement to re-connect with his pals Sammy and Ken – and with his fans.
SAMMY SADLER (FULL BIO): For someone who has spent decades in the music business, Country entertainer Sammy Sadler is more active than most – and enjoying every aspect of his career. The Memphis-born singer is currently ramping up for the release of his newest CD, readying for a book launch, and touring with his pal, superstar Ken Mellons, as one half of the popular Takin' The Country Back Tour.

---

Takin' The Country Back features three country music hit makers on one stage, at an affordable all-inclusive, price! Sammy Sadler, Ken Mellons & Jeff Carson are consummate country music professionals, they have the hits & history, they're easy to work with, and will give your fans a night they'll always remember! This show is perfect for theaters, fairs, festivals, casinos, large clubs.... virtually anywhere! The guys are easy to work with, affordable, and will give you an amazing 1.5 hour show! It features high energy, *real* country music with audience interaction!

This show also travels SELF-CONTAINED with all musicians and backline!